Cheesecake Factory Spicy Chipotle Chicken Pasta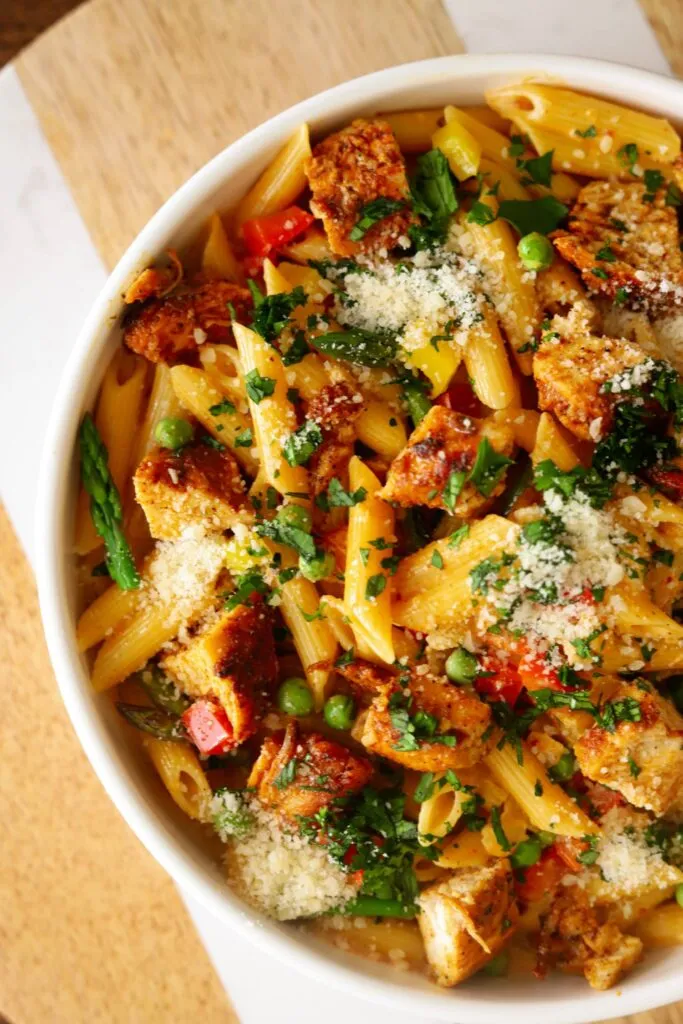 Cheesecake Factory Spicy Chipotle Chicken Pasta
If you love the spicy chipotle chicken pasta from Cheesecake Factory, this recipe is your next hit! It tastes just like it, if not EVEN better. The best part is it's packed with veggies and you can tweak the spice level to your liking.
Ingredients
CHICKEN
1 pound chicken breast
1 tablespoon olive oil
1 teaspoon salt
1 teaspoon garlic powder
1 teaspoon paprika
1/2 teaspoon black pepper
1/2 teaspoon cumin
1 tablespoon honey
squeeze of lime
SAUCE
1 tablespoon olive oil
1/2 whole red bell pepper diced
1/2 whole yellow bell pepper diced
1/3 cup diced onion
1 teaspoon minced garlic
2 cups heavy cream
1/4 cup adobo chipotle pepper paste
2 teaspoons chili powder
1 teaspoon paprika
1/2 teaspoon salt more to taste
1 cup freshly grated parmesan
1 cup chopped asparagus
1/2 cup peas
OTHER
12 ounces penne or pasta shape of choice
1 tablespoon chopped cilantro
Instructions
Marinade chicken in olive oil, salt, garlic powder, paprika, and black pepper. Cook on a hot skillet or pan over medium-high heat. Get a golden brown sear on both sides. Then turn the heat to low and cover until the center is cooked through. Chop into small pieces and toss in honey and lime juice. Set aside.
Bring a large pot of water to a boil. Salt the water heavily. Drop the asparagus in for 1-2 minutes, just until it turns bright green and softens, then remove. Drop the pasta in and cook to package directions.
In a sauce pan over medium heat, add olive oil, bell peppers, onions, and garlic. Sauté until they soften a bit.
Add the heavy cream, chipotle pepper paste, chili powder, paprika, and salt. Mix. Bring to a boil for a minute, then add the parmesan, mix, and simmer for a few minutes until the sauce thickens. Add the asparagus and peas in and mix.
Drop the pasta in and toss to evenly coat.
Garnish with cilantro and more parmesan!
Tips & Notes
Add cayenne pepper or red pepper flakes to make it more spicy!