Cinnamon Roll Cookies
Let's learn how to turn everyone's favorite ooey gooey cinnamon rolls into its cookie version! Imagine a soft chewy sugar cookie base with swirls of caramelized brown sugar and cinnamon topped with a sweet vanilla glaze. It's the ultimate cozy dessert!
This post is sponsored by Challenge Butter but all thoughts are my own. Thank you for supporting brands that make Moribyan's kitchen possible.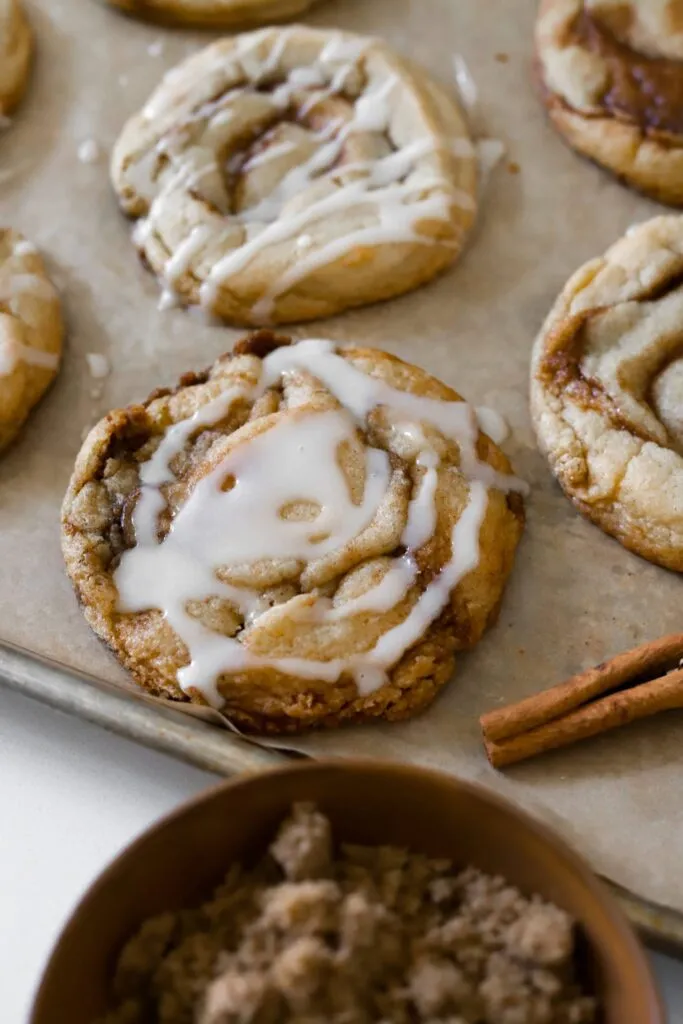 The weather is a lot colder which means it's time to get cozier and what says cozy more than cinnamon rolls! Although nothing beats a classic cinnamon roll, these cookies come in really close and are also a lot easier to make if that craving hits.
There are basically three different parts to this recipe! The process is very similar to making cinnamon rolls just without the proofing time.
The Sugar Cookie Base
If you have ever made snickerdoodles like in this churro cookie recipe, the dough is exactly the same. It's super chewy and soft with the perfect amount of sweetness. Here is everything you will need!
Dry Ingredients
All purpose flour
Baking soda
Cream of tartar
Salt
Just add all the dry ingredients to a bowl and whisk them together. If you do not have cream of tartar, just omit it from this recipe and you won't have any issues!
Wet Ingredients
Challenge Unsalted Butter
White sugar
Light brown sugar
Vanilla extract
Eggs
The key ingredient to a perfect cookie is high-quality butter so that's why we're using my favorite Challenge Unsalted Butter. It adds the most beautiful rich taste that doesn't compare. Also, Challenge Butter is made the old-fashioned way from happy cows at family-owned dairies and you can really taste that difference in these cookies. The best part is no hormones are ever added so I always feel good about putting desserts created with Challenge Butter on the table for my loved ones to enjoy.
The butter and sugars get beaten together until light and fluffy with a hand or stand mixer. Then the eggs and vanilla extract are beaten in until you have a smooth batter. Add the dry to the wet and mix just until a dough forms!
The Cinnamon Sugar Spread
The best part of the cookie is by far the cinnamon sugar filling. When the cookies bake, the filling caramelizes into a cinnamon caramel-like ribbon throughout and it's absolutely delicious! Here is what you'll need to make it:
Challenge Unsalted Butter
Dark brown sugar
Cinnamon
Make sure the butter is at room temperature and mix it with dark brown sugar and cinnamon until you have something that is the consistency of a thick spread!
Take the cookie dough and roll it out into a large rectangle. If it's too sticky, flour the surface. Add the cinnamon spread across the dough and then roll it up tightly and wrap with parchment paper or Saran Wrap. Chill it for 30 minutes and then slice the dough into 1 inch thick rounds.
Freeze the dough again for about 1 hour. Then bake in the oven at 375°F for about 12 minutes. Once out of the oven allow them to cool to room temperature.
The Vanilla Glaze
This is by far the easiest part of this recipe! All you have to do is combine these 3 ingredients:
Powdered sugar
Heavy cream
Vanilla extract
Whisk them together and now you have a delicious vanilla glaze to shower these cookies in. If the frosting is too thick, just warm it up for 15 seconds in the microwave and it will be a lot thinner.
If you tried this recipe and loved it, drop by down below and let me know how you liked it with a rating and comment! Feel free to also leave a question there about this recipe and I'll get right back to it.
To see more recipes and behind the scenes, follow along on Instagram! I'm also now on Pinterest pinning away so stop by and see what's up.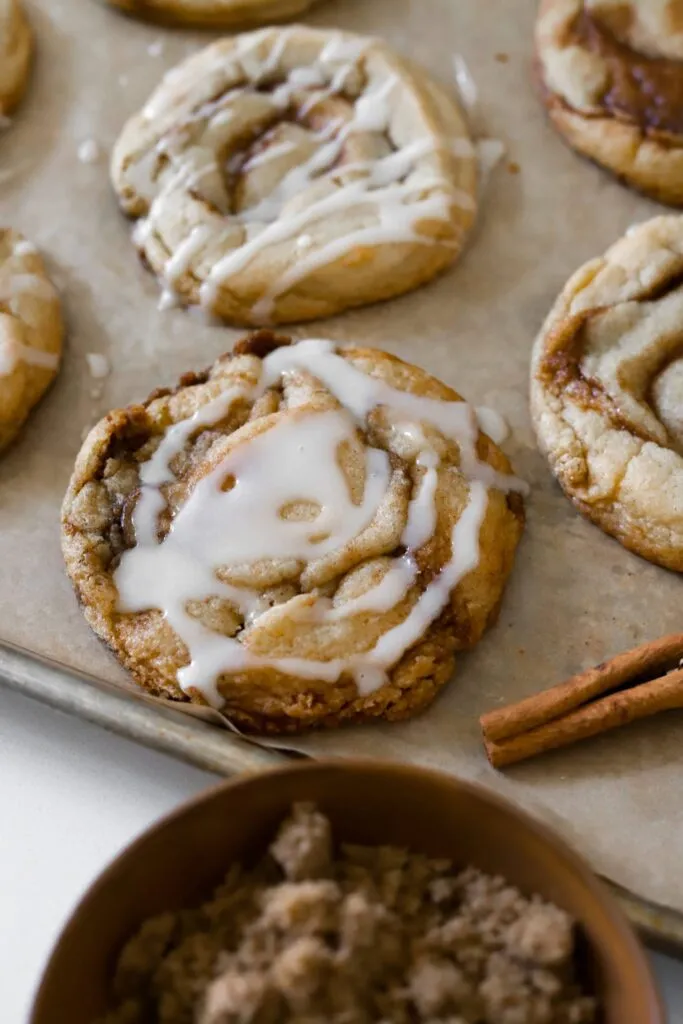 Let's learn how to turn everyone's favorite ooey gooey cinnamon rolls into its cookie version! Imagine a soft chewy sugar cookie base with swirls of caramelized brown sugar and cinnamon topped with a sweet vanilla glaze. It's the ultimate cozy dessert!
Ingredients
COOKIE DOUGH
2 3/4 cup all purpose flour
1 teaspoon baking soda
2 teaspoons cream of tartar
1/2 teaspoon salt
1 cup Challenge Unsalted Butter room temp
2/3 cup white sugar
3/4 cup light brown sugar
2 large eggs room temperature
2 teaspoons vanilla extract
CINNAMON SUGAR FILLING
VANILLA GLAZE
1 cup powdered sugar
3 tablespoons heavy cream
1/2 teaspoon vanilla extract
Instructions
In a mixing bowl, whisk together all purpose flour, baking soda, cream of tartar, and salt.
In another bowl, beat together butter, white sugar, and brown sugar until light and fluffy, about 2 to 3 minutes. You can use a hand beater or stand mixer fitted with the paddle attachment. Scrape the sides of the bowl down as necessary. Then add in the eggs and vanilla extract and beat again until fully incoporated.
Add the dry to wet and beat together just until a dough forms. The dough will be soft and fluffy.
On a large piece of parchment paper, sprinkle a bit of flour and roll out the dough into a rectangle.
In a small bowl, make the cinnamon sugar spread by combining unsalted butter, dark brown sugar, and cinnamon. Spread it on top of the dough.
Roll it up tightly and if it's too sticky, add a little more flour. It's ok if it's not perfect. Wrap it using the parchment paper and pop in the freezer to chill for 20 to 25 minutes.
Slice it into 1 inch thick pieces and freeze for about 30 minutes.
Preheat oven to 375°F.
On a lined baking sheet, place 6 cookies to make sure they are spaced apart.
Bake for about 12 to 14 minutes just until the edges are golden!
Take out of the oven and allow to cool on the baking sheet until moveable. Transfer to a cooling rack to finish the cooling process.
To make the vanilla glaze, whisk together powdered sugar, heavy cream, and vanilla extract. If it's too thick, just heat it up for 15 seconds in the microwave.
Spread the icing to cover the top of the cookie and once the glaze sets, they're ready to enjoy!