Crab Rangoons
Let's learn how to make Panda Express Cream Cheese Rangoons at home and even better with the addition of crab! Super crunchy on the outside, soft and creamy on the inside. These crab and cream cheese rangoons are addicting!
What Are Crab Rangoons?
Crab rangoons are wonton wrappers stuffed with a filling of crab, cream cheese, and green onions and then folded into a star shape to be fried to golden perfection! They're common to find in Chinese restaurants in America. Panda Express cream cheese rangoons are very popular but it only has cream cheese instead of crab too. Still delicious but not as good in my opinion! The filling is super easy to make and they fry so fast. The crunch of the wonton after frying them will have you coming back for more and more.
To Make the Filling:
The filling is the easiest part of this recipe since all you have to do is add everything into a bowl and mix it up.
Crab Meat: Imitation is the way to go! It's a lot more affordable and personally, I like it more in this application. I like to use crab meat that is finely shredded like the one you typically get in your sushi. If you can't find that, just finely chop any imitation crab you can find. Of course you can use real crab meat if that is your preference.
Cream Cheese: Just make sure it is room temperature so it is easy to mix in. Just let it sit out on the counter for 1 to 2 hours before making the rangoons.
Scallions/Green Onions: This adds a nice fresh flavor to break away from the creaminess of the cream cheese.
Worcestershire Sauce: It has a very strong umami flavor that compliments the crab perfectly.
Garlic Powder: For flavor! You can also use fresh garlic that's been finely minced.
Salt & Black Pepper: Keep in mind the Worcestershire sauce is very salty too so add to taste.
How to Fold Rangoons?
There are 2 techniques that I go back and forth between depending on what I'm feeling that day.
For technique 1, the final product is on the left. This shape is a lot easier to learn and master. Start out by bringing two opposite ends together and pinching. Then fold the left side in to the center where you just pinched and then do the same with the right side so that now all the points have met in the middle. Press the edges together to seal tightly and push any air out. This will prevent any mishaps when they fry like popping and breaking. The best part about this technique is you can add more filling without making it too difficult to seal.
For technique 2, the final product is on the right. I like how this shape looks a lot more but it definitely takes a few tries before you master it. This is how they commonly look when you order them from a restaurant. To see how to fold into a four-cornered star, follow this tutorial.
Tips & Notes
Can you bake them? Yes, just preheat your oven to 375°F. Place the rangoons on a baking sheet. Spray with vegetable oil and bake for about 15 to 16 minutes or until golden and crispy.
How do you store them? If you do not want to fry them all at once, place the rangoons on a baking sheet. Make sure they are spaced apart and not touching. Pop in the freezer for an hour or two. Then transfer to a large ziploc bag and keep in the freezer until ready to fry.
Make sure to seal tightly and remove any air bubbles! This will prevent them from popping, breaking, and oil entering.
What to do if you don't like cream cheese? If you don't like cream cheese, you can use only half the amount in the recipe and replace the other half with mayonnaise.
What else can you add to the filling? You can add lime juice or even some mustard for a bit more "spicyness".
Make sure to cover the wonton wrappers and rangoons. Use a towel or place in a ziploc bag to prevent them from drying out while you fill and seal them all.
Some other dishes you may like to serve this with:
If you have any questions about this recipe, let me know in the comments! If you make this, send me a picture on Instagram! I love seeing your remakes SO much.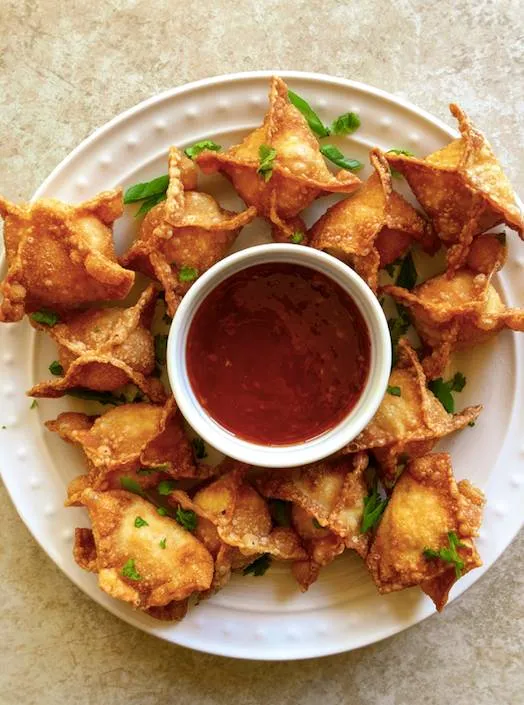 Let's learn how to make Panda Express Cream Cheese Rangoons but with crab meat at home and even better. They're so crispy on the outside, soft and creamy on the inside, and the perfect combo when dipped in sweet chili sauce.
Ingredients
2 cups crab meat
3/4 cup cream cheese room temperature
2 scallions chopped
1 tablespoon Worcestershire sauce
1/2 teaspoon garlic powder
1/2 teaspoon salt
1/2 teaspoon black pepper
water to seal the wrappers
wonton wrappers
sweet chili sauce to serve with optional
vegetable oil for frying
Instructions
In a large bowl, mix together crab meat, cream cheese, scallions, Worcestershire sauce, garlic powder, salt, and black pepper.
On your working surface, lay a wonton wrapper. Place about a tablespoon or less of crab filling in the center. Brush the whole border with very little water. Bring the opposite ends together and pinch to seal tight. Make sure to push any excess air out to prevent them from popping when frying. Repeat until all the crab filling is done. Make sure to cover the wonton wrappers and rangoons with a towel or place in a ziploc bag to prevent them from drying out while you fill and seal them all.
In a pot, add oil high enough to cover the wontons when dropped in. Heat over medium-high and let it reach right below frying temperature (325 to 350°F). Do not exceed this temperature or they'll fry too fast and burn.
Drop the wontons in, making sure not to overcrowd them. Fry in batches. Once they are golden, take out of the oil and transfer to plate with a paper towel to drain any excess oil.
Serve with sweet chili sauce or sweet and sour sauce and enjoy!