Creamy Chicken Alfredo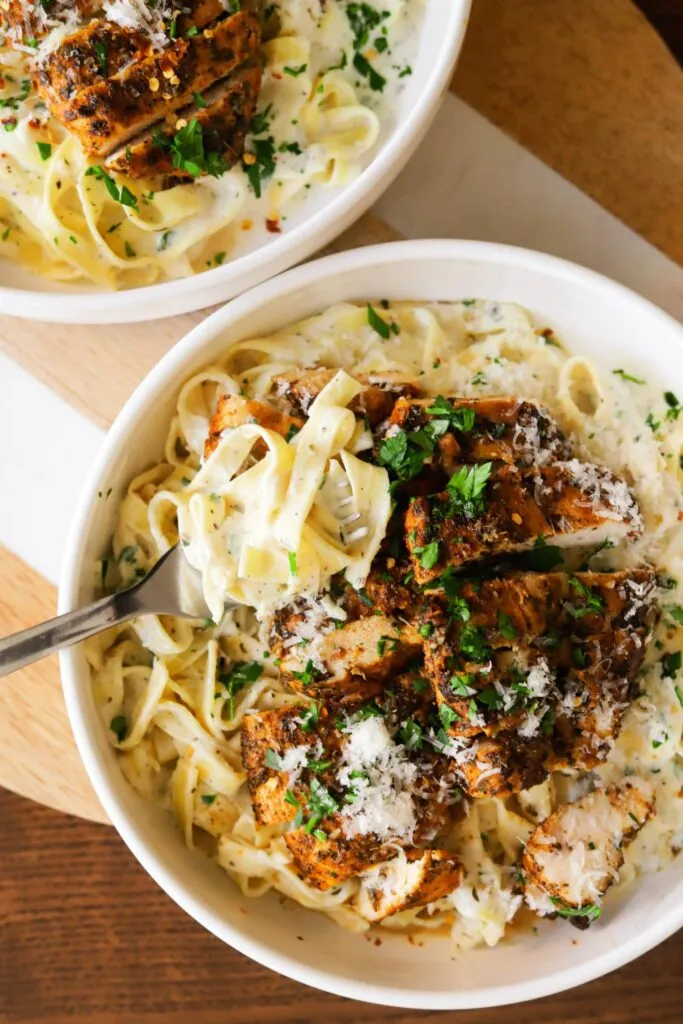 If you love the Chicken Alfredo from Olive Garden, now you can make it at home and even better! The perfect dinner to please a crowd.
Ingredients
CHICKEN
1 pound chicken breast 2 large breasts cut in half
1 tablespoon olive oil
2 teaspoons Italian seasoning
1 teaspoon lemon pepper
1 teaspoon smoked paprika
1 teaspoon garlic powder
1 teaspoon salt
1/4 teaspoon black pepper
ALFREDO SAUCE
1/2 cup unsalted butter
1 tablespoon fresh garlic minced
2 cups heavy cream
1 teaspoon Italian seasoning
1/2 teaspoon salt more to taste
1/2 teaspoon black pepper
dash of nutmeg
1 1/2 cup parmesan freshly grated
1 tablespoon fresh parsley chopped
PASTA
12 ounces fettuccine pasta
salt to taste
Instructions
CHICKEN
In a bowl, add the chicken, olive oil, Italian seasoning, lemon pepper, smoked paprika, garlic powder, salt, and black pepper. Mix to marinade evenly.
Heat an oiled skillet or pan over medium-high heat.
Add the marinated chicken to the pan and cook on each side until golden brown, about 3 minutes each side. Then drop the heat to low and allow the chicken to cook through to the center or the temperature registers 165°F. Remove the chicken from the pan.
PASTA
Cook pasta according to package directions in salted water.
ALFREDO SAUCE
In a saucepan over medium heat, melt down the butter with the garlic.
Add the heavy cream, Italian seasoning, salt, black pepper, and nutmeg. Whisk together and bring to a simmer for a few minutes to thicken.
Add the parmesan and whisk again until the sauce thickens. Once it thickens, mix in the fresh parsley and take off the heat.
Add the cooked pasta and mix.
Plate with the chicken and more fresh parmesan on top!