McDonald's Chicken Snack Wrap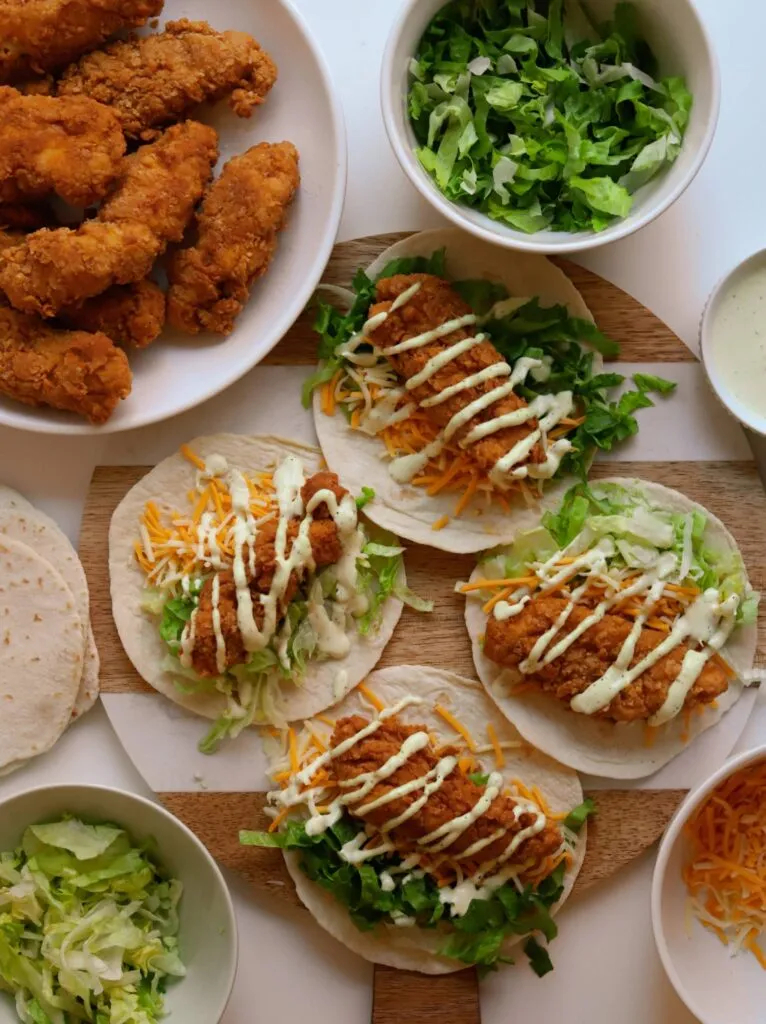 The chicken snack wraps from McDonald's were my favorite but since they discontinued it from their menu, let's make it at home and even better! The crispiest buttermilk chicken tenders in a soft tortilla with ranch, lettuce, and cheese.
Ingredients
CHICKEN
1.5 lbs chicken breast cut into small thin tenders
1 1/2 cup all purpose flour
1/4 cup cornstarch
1 teaspoon baking powder
1 teaspoon paprika
1/2 teaspoon garlic powder
2 teaspoons salt
1/2 teaspoon black pepper
1 cup buttermilk
1 teaspoon salt
1/2 teaspoon black pepper
1/2 teaspoon paprika
1/2 teaspoon garlic powder
RANCH SAUCE
1 cup mayonnaise
1/3 cup buttermilk
1 tablespoon yellow mustard
1/4 to 1/2 teaspoon salt to taste
1/2 to 3/4 teaspoon black pepper to taste
1/2 teaspoon garlic powder
OTHER
vegetable oil for frying
flour tortillas
lettuce shredded
monterey jack and cheddar cheese shredded
Instructions
RANCH SAUCE
In a small bowl, combine mayo, buttermilk, yellow mustard, salt, black pepper, and garlic powder to make a ranch sauce.
CHICKEN
In a shallow and wide bowl, add flour, cornstarch, baking powder, paprika, garlic powder, salt, and black pepper. Whisk and set aside.
In a deep bowl, add the buttermilk, salt, black pepper, paprika, and garlic powder. Whisk together.
Add 3 tablespoons of the wet batter into the dry and mix around to create a flaky texture.
Dip each tender/strip first in the wet batter, then into the dry, then back into the wet, and finally into the dry for a double coating. Make sure to let any excess wet or dry drip off before dipping into the next. Once all the tenders are breaded, allow to rest for 10 minutes.
Heat oil to about 365°F in a frying pan, about 1.5 to 2 inches high.
Drop one tender in a time, making sure not to overcrowd them. Fry in 2 batches if needed. Fry until golden brown all around, about 7-8 minutes. Make sure to rotate the tenders around as needed for even browning. Transfer to a paper towel to drain any excess oil.
ASSEMBLY
Grab a flour tortilla.
Place shredded lettuce on top, then the shredded cheese, then the tender (you can keep it whole or chop into smaller pieces).
Drizzle ranch on top and enjoy!
Tips & Notes
The ranch sauce in this recipe is a fusion of McDonald's McChicken sauce and buttermilk ranch. The mustard in it makes it so good but if you prefer a more traditional ranch, use your favorite to make these.