Taco Bell Crunchwrap Supreme
If you love Taco Bell's Crunchwrap Supreme, you can now make it at home and even better! They're so easy to whip up and perfect to freeze and reheat for another day.
The Crunchwrap Supreme might be the most popular item at Taco Bell. Here is how the restaurant describes it: "The Crunchwrap Supreme® is a flour tortilla layered with seasoned beef, warm nacho cheese sauce, a crispy tostada shell, crispy lettuce, ripe tomatoes and topped with cool reduced fat sour cream all wrapped in our signature Crunchwrap fold and grilled to go."
The taco meat in this recipe is what really takes this to the next level. It's seasoned to perfection and packed with tons of fresh herbs to brighten it up! You can even prep the taco meat ahead of time so all you have to do is assemble and toast. If you have any taco meat leftover, I love adding it to a breakfast scramble the next day or in a salad.
The Layers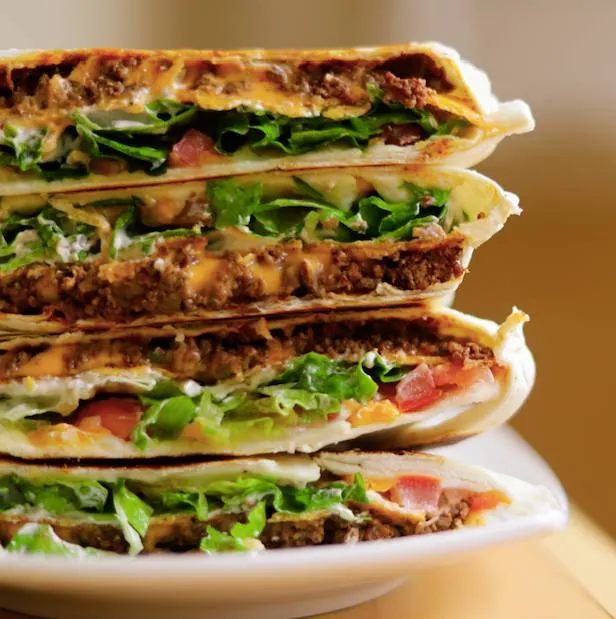 Taco Meat: Traditionally, this is made with ground beef. The best fat percentage to use is 85/15 but feel free to get a leaner ground beef. You can also use ground turkey or ground chicken. If you want to make it vegetarian, use tofu or just swap it for beans!
Creamy Nacho Cheese: My favorite brand to use is Juanita's. I just add a splash of jalapeño juice to it for a bit of spicyness and tanginess.
Crunchy Tostada Shell: You can purchase tostadas or just fry a corn tortilla until crispy and golden to turn it into a tostada. You can also swap the tostadas for Doritos to add extra flavor.
Thick Layer of Sour Cream: Add as much or as little as you like. Taco Bell uses low fat sour cream but you can use either low-fat or high-fat. Whatever you prefer!
More Cheese: This time we're going to add shredded Mexican cheese. It's typically just a blend of Monterrey Jack, Mozzarella, and Cheddar.
Crispy Lettuce: Romaine is the best but feel free to use iceberg or green leaf lettuce.
Ripe Tomatoes: Chop them small and add them in!
Flour Tortilla: This is what carries it all. It WRAPS the crunchWRAP! We'll also cut a smaller circle out of a large tortilla to help seal it all up.
HOW TO MAKE AVOCADO RANCH
The best sauce at Taco Bell is the avocado ranch alongside my other two favorites, creamy jalapeño sauce and chipotle sauce! It only takes five minutes to make and is delicious in not only crunchwraps but also tacos, sandwiches, as a salad dressing, or even just as a dip. The possibilities are endless!
Here's everything you will need:
2 large avocados
1/2 cup mayonnaise
1/4 cup buttermilk
1/4 cup cilantro
2 tablespoons lime juice
2 tablespoons diced jalapeños
2 teaspoons minced garlic
1 teaspoon black pepper
1/4 to 1/2 teaspoon salt, or to taste
dash of cayenne powder
1/4 cup jalapeño juice
Just throw it all into a food processor or blender until it's creamy and smooth! Taste it and adjust anything to your taste.
You can either add the sauce directly into the crunchwrap, use it as a dip, or dollop it on top as you enjoy it like you would with hot sauce. Now IF you have any leftovers, refrigerate in an air tight container or jar for 5 days.
How to Make It Vegetarian
To make it vegetarian, just use tofu instead of ground beef and follow the same directions and spices. You can also use beans in place of ground beef like black beans or pinto beans.
If you want to make it completely vegan, use vegan cheese and a dairy-free sour cream substitute and that's it!
If you tried this recipe and loved it, drop by down below and let me know how you liked it with a rating and comment! Feel free to also leave a question there about this recipe and I'll get right back to it.
To see more recipes and behind the scenes, follow along on Instagram! I'm also now on Pinterest pinning away so stop by and see what's up.
Want More Recipes Like This?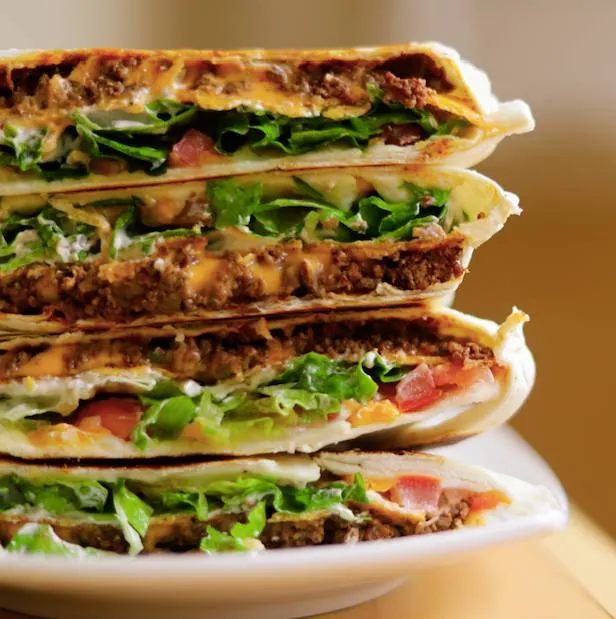 Taco Bell Crunchwrap Supreme Copycat
Your favorite item at Taco Bell, the famous Crunchwrap Supreme, but at home and even better! They're so easy to whip up and perfect to freeze and reheat for another day. You can even add the taco meat to burritos, tacos, nachos, salads - the possibilities are endless.
Ingredients
TACO MEAT
1 pound ground beef 85/15
1 tablespoon olive oil
2 teaspoons minced garlic
2 teaspoons chili powder
1 teaspoon coriander
1 teaspoon salt or to taste
1 teaspoon smoked paprika
1 teaspoon cumin
1 teaspoon oregano
1/2 teaspoon black pepper
1/4 teaspoon onion powder
2 tablespoons tomato sauce
1 tablespoon cilantro chopped
CRUNCHWRAP FILLING
shredded lettuce
chopped tomatoes
large flour tortillas
tostadas
sour cream
nacho cheese
shredded Mexican cheese blend
oil or mayonnaise for toasting
Instructions
TACO MEAT
In a pan over medium heat, add olive oil and garlic and cook until golden.
Then add ground beef to the pan along with all the taco spices (chili powder, coriander, salt, smoked paprika, cumin, oregano, black pepper, and onion powder) and start to mash with a spatula or wooden spoon to break up completely.
Once the meat is browned and minced finely, add tomato sauce and cilantro. Mix and take off heat. Allow to cool slightly for a few minutes.
ASSEMBLY
Grab a large flour tortilla and spread some nacho cheese in the center. Add the taco meat on top.
Layer a tostada on top of the meat. Spread sour cream on top of the tostada.
Add the lettuce, tomatoes, and shredded cheese on top.
Cut out a small circle from a large tortilla and place on top.
Wrap and seal the Crunchwrap.
Brush the crunchwrap with a bit of oil/mayo or oil the pan and place folded side down first. Toast on both sides to golden brown perfection and enjoy.